Pacemaker Hardware Reference Platform Details
From Computing and Software Wiki
Pacemaker Hardware Reference Platform Details
The group at U of Minnesota that designed the board created a final report describing the design. It is available here.
Introduction
Here are some photos of the prototype hardware reference platform that we have produced.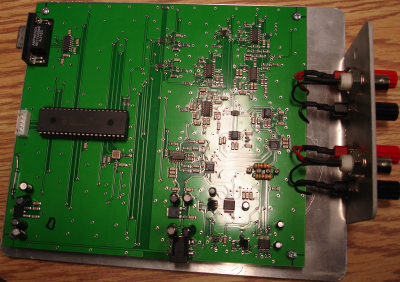 The side photo show the standard 2mm power jack. A 9-12V adapter providing 300mA should suffice. You can even run the board off of a 9V battery for some time .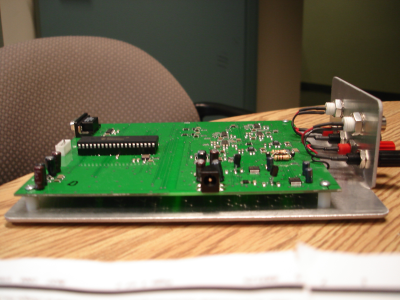 The next photo shows the BNC and binding post connectors that we have put on so allow the boards to be easily connected to a PC running Labview or some other software to simulate a heart and facilitate testing and debugging.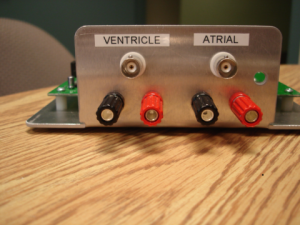 Here is the originial design of the Pacemaker Hardware Reference Platform.
Bill Of Materials (BOM)
We will be releasing the Bill Of Materials (BOM) and the schematics for the hardware once the design is finalized so that you can also produce your own boards if you would prefer to do that.
| | | | | | | | |
| --- | --- | --- | --- | --- | --- | --- | --- |
| Qty | Reference | Description | MFR PART NUMBER | MFR | DIGI-KEY PART # | COST <1000 | Total Cost $ |
| 4 | C1-2 C67 C68 | CAP 10UF 25V ELECT PW RADIAL | UVX1H100M | NICHICON AMERICA | UPW1E100MDH-ND | $0.07 | $0.26 |
| 13 | C14-15 C33 C45 C50 C9 C58-63 C84 | CAP 1.5UF 10V CERAMIC X7R 1206 | ECJ-3YB1A155K | Panasonic - ECG | PCC1867CT-ND | $0.29 | $3.72 |
| 2 | C21-22 | "CAP, CERAM-CHIP, 22PF, 50V, COG, 1206" | CC1206JRNP09BN220 | Yageo Corporation | 311-1154-1-ND | $0.10 | $0.19 |
| 4 | C3 C5 C28 C30 | "CAP, ALUM, 6.8 uF, 20%, 25V, 85C, RAD" | ECE-A1EKG6R8 | NIC COMPONENTS CORP | P915-ND | $0.19 | $0.76 |
| 18 | C32 C35 C11 C26 C37-38 C55 C70 C71 C78 C80 C82 C87 C93 C99 C101 C106 C113 | "CAP, CERAM-CHIP, .01uF HI DIALECTRIC" | CC1206KRX7R9BB103 | Yageo Corporation | 311-1174-1-ND | $0.08 | $1.51 |
| 4 | C39 C66 C72 C73 | "CAP, ALUM, 1 uF, 20%, 50V, 85C, RAD" | EKMG500ELL1R0ME11D | United Chemi-Con | 565-1332-ND | $0.27 | $1.08 |
| 37 | C4 C6 C12 C13 C16-20 C23 C24 C27 C29 C34 C36 C49 C54 C56 C74-77 C83 C88 C91 C92 C96 C97 C100 C105 C110 C111 C114 C116-119 | "CAP, CERAM-CHIP, .1 uF, 50V, X7R, 1206" | C1206C104K5RACTU | Kemet | 399-1249-1-ND | $0.07 | $2.66 |
| 9 | C40-43 C94 C107-109 C51 | CAP 1.0UF 25V CERAMIC X7R 1206 | C1206C105K3RACTU | Kemet | 399-1255-1-ND | $0.19 | $1.69 |
| 1 | C52 | "CAP, CERAM-CHIP, .22 uF, 25V, X7R, 1206" | GRM319F51E224ZA01D | MURATA ELECTRONICS | 490-1829-1-ND | $0.21 | $0.21 |
| 1 | C53 | CAP CER 2.2UF 16V 10% X7R 1206 | GRM31MR71C225KA35L | MURATA ELECTRONICS | 490-1799-1-ND | $0.43 | $0.43 |
| 1 | C64 | CAP CERM .68UF 10% 25V X7R 1206 | 12063C684KAT2A | AVX Corporation | 478-1565-1-ND | $0.11 | $0.11 |
| 1 | C65 | CAP .15UF 16V CERAMIC X7R 1206 | ECJ-3VB1C154K | Panasonic - ECG | PCC1872CT-ND | $0.19 | $0.19 |
| 14 | C7 C10 C25 C31 C44 C46-48 C69 C79 C81 C86 C90 C98 | "CAP, CERAM-CHIP, .001 uF,5%,50V,COG 1206" | CC1206KRX7R9BB102 | Yageo Corporation | 311-1170-1-ND | $0.08 | $1.18 |
| 2 | C8 C57 | CAP CER 4.7UF 10V X5R 1206 | LMK316BJ475KD-T | Taiyo Yuden | 587-1340-1-ND | $0.34 | $0.68 |
| 1 | C85 | CAP CER 68000PF 100V X7R 1206 | GRM31MR72A683KA01L | MURATA ELECTRONICS | 490-3363-1-ND | $0.22 | $0.22 |
| 2 | C89 C95 | CAP CER 10UF 10V X5R 1206 | LMK316BJ106KL-T | Taiyo Yuden | 587-1342-1-ND | $0.39 | $0.77 |
| 4 | D1-4 | "DIODE, SCHOTTKY, L1, SOT-523" | BAT54T-7 | DIODES INC (VISHAY) | BAT54TDITR-ND | $0.15 | $0.60 |
| 1 | J1 | "CONNECTOR, D-SUBMIN. 9 SOCKETS FEMALE" | 617-C0095-BF220 | AMPHENOL BENDIX CONNECTOR OP | | $3.24 | $3.24 |
| 1 | J10 | "CONNECTOR, HEADER, MALE, 5 POS, .098 CTR" | B 5B-XH-A | J.S.T. CORPORATION | | $0.18 | $0.18 |
| 1 | J8 | 2mm DC Power | PJ-014C-SMT | CUI | CP-014CPJTR-ND | $0.42 | $0.42 |
| 2 | R11 R16 | RES 52.3K OHM 1/4W 1% 1206 SMD | MCR18EZHF6491 | Rohm | RHM52.3KFCT-ND | $0.05 | $0.09 |
| 2 | R1-2 | "RES, CHIP, 1.0M, 5%, 1/8W, 1206" | CRCW12061M00FKEA | Vishay/Dale | 541-1.00MFCT-ND | $0.05 | $0.10 |
| 6 | R12 R15 R17 R50 R68 R69 | RES 6.49K OHM 1/4W 1% 1206 SMD | MCR18EZHF6491 | Rohm | RHM6.49KFCT-ND | $0.05 | $0.28 |
| 4 | R18-21 | RES 15.8K OHM 1/4W 1% 1206 SMD | CRCW120615K8FKEA | Vishay/Dale | 541-15.8KFCT-ND | $0.05 | $0.19 |
| 4 | R22-23 R32 R33 | "RES, CHIP, 1K, 5%, 1/8W, 1206" | CRCW12061K00JNEA | Vishay/Dale | 541-1.0KECT-ND | $0.04 | $0.16 |
| 8 | R24-27 R30 R31 R66 R67 | "RES, CHIP, 249K 1%, 1206" | RC1206FR-07249KL | Yageo Corporation | 311-249KFRCT-ND | $0.09 | $0.70 |
| 5 | R28 R64 R65 R71 R72 | "RES, CHIP, 0 OHM, 5%, 1/8w, 1206" | RC1206JR-070RL | Yageo Corporation | 311-0.0ERCT-ND | $0.08 | $0.39 |
| 1 | R34 | "RES, CHIP, 620Kohm, 5%, 1/8 WATT, 1206" | 9C12063A6203JLHFT | Yageo Corporation | 311-620KECT-ND | $0.08 | $0.08 |
| 1 | R35 | "RES, CHIP, 100, 5%, 1/8W, 1206" | MCR18EZHJ101 | Rohm | RHM100ECT-ND | $0.09 | $0.09 |
| 1 | R36 | RES 14.0K OHM 1/4W 1% 1206 SMD | MCR18EZHF1402 | Rohm | RHM14.0KFCT-ND | $0.05 | $0.05 |
| 4 | R3-6 | "RES, CHIP, 240 OHM, 5% 1/8W, 1206" | MCR18EZPJ241 | Rohm | RHM240ERCT-ND | $0.05 | $0.20 |
| 8 | R37 R38 R42-44 R57-59 | RES 4.99K OHM 1/4W 1% 1206 SMD | MCR18EZHF4991 | Rohm | RHM4.99KFRCT-ND | $0.05 | $0.37 |
| 1 | R40 | "RES, CHIP, 12 KOHM, 1/8W, 5%, 1206" | MCR18EZHJ123 | Rohm | RHM12KECT-ND | $0.09 | $0.09 |
| 2 | R41 R39 | RES 5.90K OHM 1/4W 1% 1206 SMD | MCR18EZHF5901 | Rohm | RHM5.90KFCT-ND | $0.05 | $0.09 |
| 2 | R47 R62 | "RES, CHIP, 47K, 5%, 1/8W, 1206" | MCR18EZPJ473 | Rohm | RHM47KERCT-ND | $0.04 | $0.08 |
| 2 | R48 R13 | RES 17.4K OHM 1/4W 1% 1206 SMD | MCR18EZHF1742 | Rohm | RHM17.4KFCT-ND | $0.05 | $0.09 |
| 2 | R49 R14 | RES 41.2K OHM 1/4W 1% 1206 SMD | 9C12063A4122FKHFT | Yageo Corporation | 311-41.2KFCT-ND | $0.09 | $0.18 |
| 1 | R51 | RES 11.8K OHM 1/4W 1% 1206 SMD | MCR18EZHF1182 | Rohm | RHM11.8KFCT-ND | $0.05 | $0.05 |
| 2 | R53 R52 | RES 4.32K OHM 1/4W 1% 1206 SMD | MCR18EZHF4321 | Rohm | RHM4.32KFCT-ND | $0.05 | $0.09 |
| 2 | R54 R56 | RES 4.87K OHM 1/4W 1% 1206 SMD | MCR18EZHF4871 | Rohm | RHM4.87KFCT-ND | $0.05 | $0.09 |
| 1 | R55 | RES 10.5K OHM 1/4W 1% 1206 SMD | MCR18EZHF1052 | Rohm | RHM10.5KFCT-ND | $0.05 | $0.05 |
| 2 | R61 R46 | RES 60.4K OHM 1/4W 1% 1206 SMD | MCR18EZHF6042 | Rohm | RHM60.4KFCT-ND | $0.05 | $0.09 |
| 5 | R7 R29 R70 R45 R60 | "RES, CHIP, 10K OHM, 5%, 1/8 W, 1206" | CRCW120610K0JNEA | Vishay/Dale | 541-10KECT-ND | $0.04 | $0.20 |
| 2 | R8 R10 | RES 3.16K OHM 1/4W 1% 1206 SMD | MCR18EZHF3161 | Rohm | RHM3.16KFCT-ND | $0.05 | $0.09 |
| 2 | R9 R63 | "RES, CHIP, 20K OHM, 5%, 1/8 W, 1206" | CRCW120620K0JNEA | Vishay/Dale | 541-20KECT-ND | $0.04 | $0.08 |
| 1 | S1 | "SWITCH, REED, AXIAL LEAD" | ORD9215 | "HASCO COMPONENTS,INC" | | $0.15 | $0.15 |
| 2 | U1 U26 | "VOLTAGE REG, 5V, 500mA, 78M05 SMT TO-252" | MC78MO5CDTRK | MOTOROLA SEMICONDUCTOR | | $0.36 | $0.72 |
| 2 | U13 U16 | IC SW DUAL DPDT 1.8-5.5V 16TSSOP | ADG888YRUZ | ANALOG DEVICES | ADG888YRUZ-ND | $1.86 | $3.72 |
| 2 | U14 U17 | IC AMP INSTRUMENTATION LP 8-SOIC | AD620AR | ANALOG DEVICES | AD620AR-ND | $4.14 | $8.27 |
| 2 | U19 U36 | IC REF VOLT HI PSRR 1.2V SOT-23 | ADR280ART-R2 | ANALOG DEVICES | ADR280ART-R2TR-ND | $0.77 | $1.54 |
| 2 | U20 U37 | IC OPAMP SNGL R-R I/O SOT23-5 | AD8601ART-R2 | ANALOG DEVICES | AD8601ART-R2-ND | $0.94 | $1.88 |
| 3 | U22 U27 U28 | 2.5V REF | MAX6102 | MAXIM SEMI | MAX6102EUR+T-ND | $0.42 | $1.26 |
| 2 | U2-3 | "VOLTAGE REG, LM317LZM TO-92 T/R VOLT REG" | LM317LZ | ON SEMICONDUCTOR | LM317LZOS-ND | $0.15 | $0.31 |
| 2 | U23 U30 | IC ADC 16BIT PSEUDO-DIFF 10MSOP | AD7685ARMZRL7 | ANALOG DEVICES | AD7685ARMZRL7-ND | $7.63 | $15.26 |
| 2 | U31-32 | IC OPAMP SGL R-R PREC 5TSOT | AD8615AUJZ-R2 | ANALOG DEVICES | AD8615AUJZ-R2-ND | $1.37 | $2.74 |
| 1 | U33 | ADXL202E | ADXL202EB-232 | ANALOG DEVICES | ADXL202EB-232-ND | | $- |
| 2 | U11 U35 | IC DGTL POT DUAL 50K I2C 10-MSOP | AD5248BRM50 | ANALOG DEVICES | AD5248BRM50-ND | $2.38 | $4.76 |
| 1 | u4 | IC DGTL POT DUAL 2.5K I2C 10MSOP | AD5248BRMZ2.5 | ANALOG DEVICES | AD5248BRM2.5-ND | $2.38 | $2.38 |
| 2 | U5 U15 | MAX4662 | MAX4662CAE | MAXIM SEMI | | $0.50 | $1.00 |
| 5 | U6-7 U10 U12 U24 | IC OP AMP QUAD LOW V R-R 14-SOIC | LMV324M/NOPB | National Semiconductor | LMV324M-ND | $0.96 | $4.80 |
| 1 | U8 | PIC18F452-I/P | PIC18F452-I/P | MICROCHIP | PIC18F452-I/P-ND | $6.82 | $6.82 |
| 1 | U9 | MAX232 | MAX232ACSE | MAXIM SEMI | MAX232ACSE+-ND | $0.90 | $0.90 |
| 1 | XTAL1 | 4.0MHZ | | PDI CRYSTALS | | $0.21 | $0.21 |
Scematic
Page 1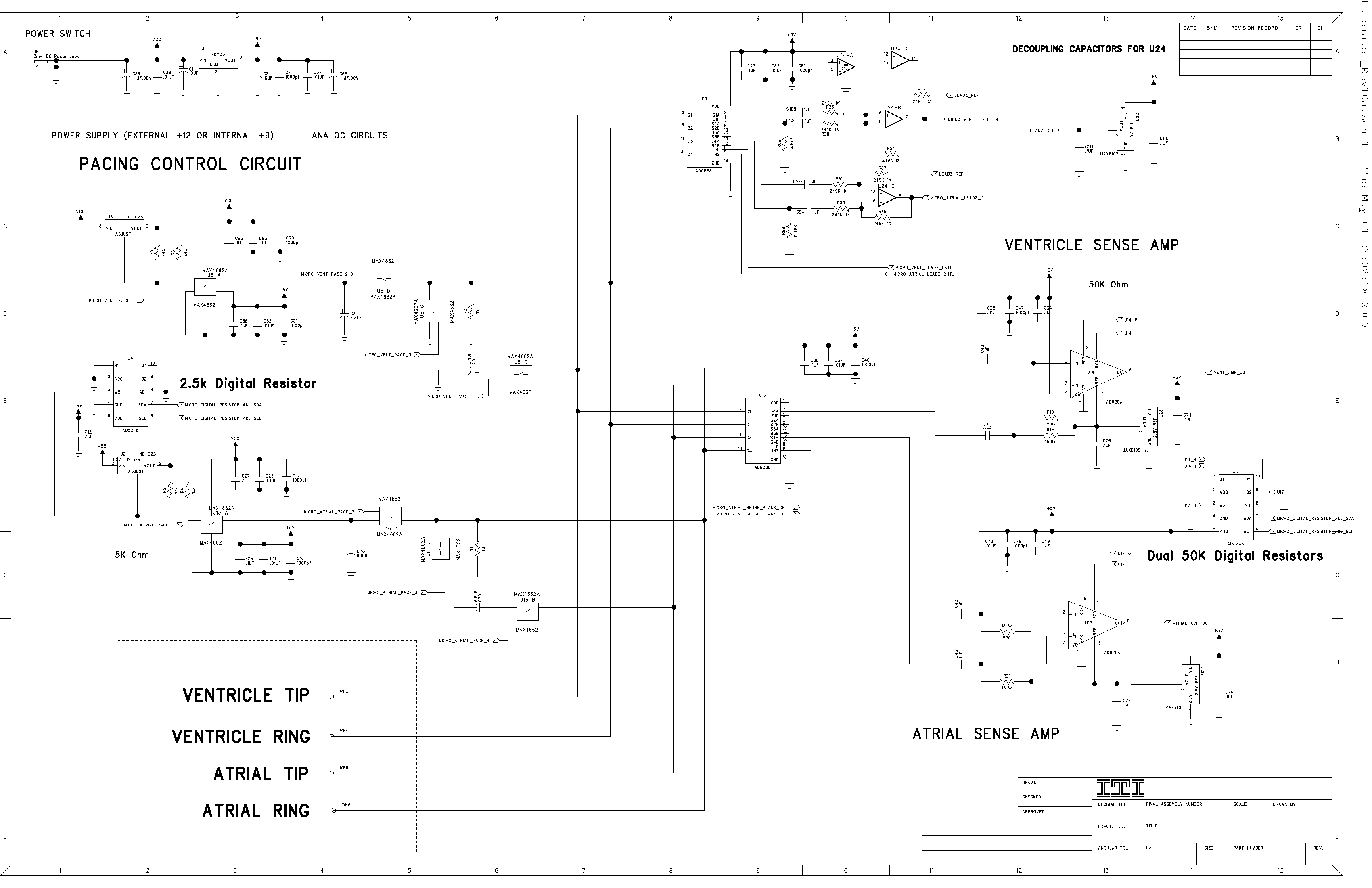 Page 2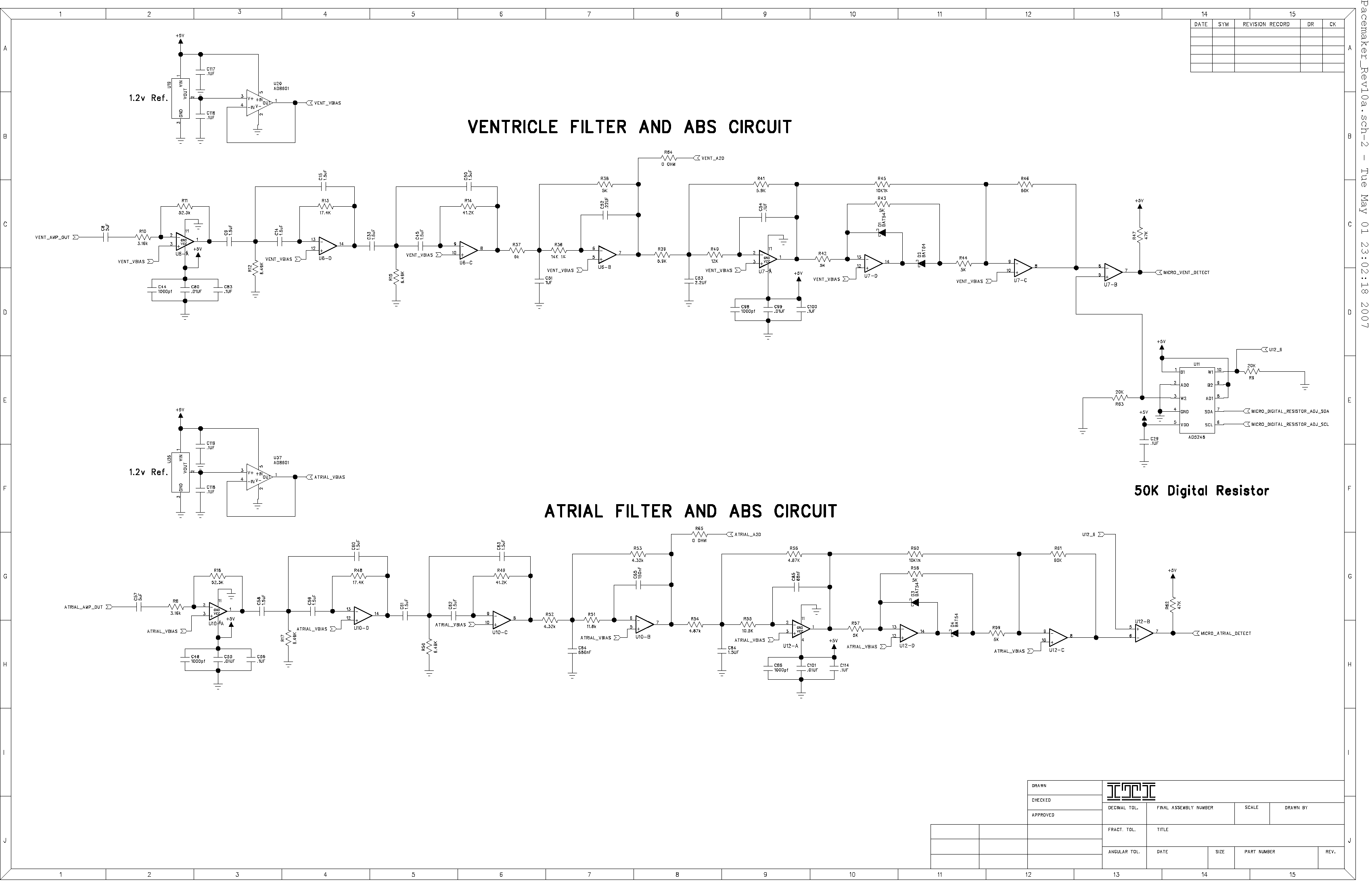 Page 3